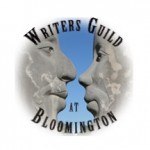 The Writers Guild at Bloomington presents the following ongoing events & programs:
First Sunday Prose Readings and Open Mic – a monthly event:  Three authors are invited to read, followed by an Open Mic. The focus is on prose writing. This event is held at Boxcar Books from 3 to 5 pm. Arrive early to sign up for Open Mic.
  Last Sunday Poetry Readings and Open Mic –  a monthly event: two guest poets will read, followed by a poetry open mic at the Bloomington Convention Center.  Arrive early to sign up for Open Mic.
Lemonstone Reading Series Lemonstone is a reading series in an intimate setting featuring one or more invited authors and usually one guest musician. The event takes place several times a year. Currently on hiatus
 Fountain Square Poetry Series The Writers Guild collaborates with By Hand Gallery to present the Fountain Square Poets Reading Series.  For this event, four invited poets read in the atrium of Fountain Square mall, along with a musical group, while By Hand Gallery opens a new exhibit as part of gallery walk night. This event takes place three times a year.
   Players Pub Spoken Word Series – a monthly event: This series features writers and musicians and an open mic on the second Thursday of each month from 6 to 9 pm.
The Writers Guild and the Monroe County Public Library The Writers Guild collaborates with the Monroe County Public Library to present workshops at the public library several times a year.
Third Sunday Writing Workshop – a monthly event: Free Creative Writing Workshop for Writers Guild Members Only.  For more information go to the Member tab above, then the Workshop link.
The Spoken Word Stage As part of the Fourth Street Festival of Arts & Crafts on Labor Day weekend, the Writers Guild presents its Spoken Word Stage with a two day lineup of artists including poets, storytellers, radio drama, comedy, street theatre, and Poetry On Demand.
Workshops and Panels The Writers Guild may also provide special guest Workshops.
Socials for WG members Once or twice a year we gather for a pot luck social, often in an outdoor location, to share food, discussion, and an open mic reading.
Our website provides up to date information on literary events around town as well as information about its members, and information on publishing and local opportunities.
   Our newsletter:  get our email newsletter for timely reminders of events and information on literary activities.
If you'd like to support our efforts, please make a contribution. Your support pays for our website, post office box, as well as our slim and trim budget for events such as our Spoken Word Stage, Writers Guild readings and workshops, and Writers Guild socials. We are volunteer run, managed, and creatively imagined, and we do a lot on very little!
You can quickly and easily make a donation by clicking the PAYPAL button at the right-hand side of the homepage. Or, you can make a check out to:
Writers Guild at Bloomington, Inc. and mail it to:
Writers Guild at Bloomington P. O. Box 3445 Bloomington, IN 47402
Thank you!