When:
September 1, 2018 @ 10:00 am – September 2, 2018 @ 6:00 pm
2018-09-01T10:00:00-04:00
2018-09-02T18:00:00-04:00
Spoken Word Stage at 4th Street Arts Festival
Presented by the Writers Guild at Bloomington
Supported in part by the Bloomington Arts Commission
Labor Day Weekend
Saturday, September 1: 10am – 6pm
Sunday, September 2: 10am – 5pm
Intersection of Dunn and Fourth Streets
Fourth Street Festival of the Arts and Crafts
www.4thstreet.org
Save the Date!
Now in its 8th year, the Spoken Word Stage at the 4th Street Arts Festival is one of the largest literary performance events in the Midwest, featuring storytelling, poetry, fiction, non-fiction, live radio theatre, and other unique collaborations.
And of course, the ever-popular Poetry on Demand table will be staffed with a fleet of poets armed with typewriters ready to deliver!
SCHEDULE SUBJECT TO CHANGE!
CHECK BACK FOR UPDATES!
SATURDAY SEP 1
10:30 . 5 Women Poets (poetry)
11:00 . Patsy Rahn (poetry)
11:30 . Merry MAC Players (theatre)
12:30 . Shana Ritter (poetry)
1:00 . Maria Hamilton Abegunde (poetry)
1:30 . Fig Tree Fellowship Radio Players (audio theatre)
2:30 . Mary Pat Lynch (fiction)
3:00 . Juliana Ramos Crespo (fiction)
3:30 . James Dorr (horror fiction)
4:00 . Shakespeare's Monkey (poetry band)
4:30 . Erin Livingston (poetry)
5:00 . Butch D'Ambrosio (sonnets)
5:30 . Stephen Vincent Giles (storytelling)
SUNDAY SEP 2
10:00 . Eric Rensberger (poetry)
10:30 . New Leaf-New Life (poetry and fiction)
11:00 . Adam Henze (poetry)
11:30 . Monroe County Civic Theater
12:00 . Joan Hawkins (fiction)
12:30 . Lisa Kwong (poetry)
1:00 . Jasper Wirtshafter (poetry)
1:30 . Arbutus Cunningham (storytelling)
2:00 . Richard Hague (poetry)
2:30 . Cricket's Bone Caravan (audio theatre)
3:30 . Michael Brockley (poetry)
4:00 . Jeffrey Pearson (poetry)
4:30 . Bloomington Storytellers Guild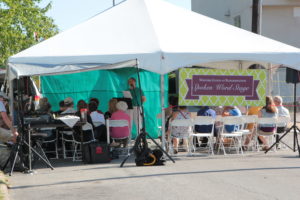 Spoken Word Stage at 4th Street Arts Festival