When:
September 24, 2017 @ 5:30 pm – 7:00 pm
2017-09-24T17:30:00-04:00
2017-09-24T19:00:00-04:00
Where:
The Venue
114 S Grant St
Bloomington, IN 47408
USA

Ekphrasis III at The Venue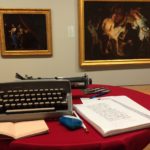 Sponsored by The Venue Fine Art & Gifts
BACK BY POPULAR DEMAND!
FREE
Once a year at The Venue we have an Ekphrasis (a Greek word for a literary description of or commentary on a visual work of art). For our event we have invited some of the areas most recognized painters to submit one painting, each. We then invited some of the areas strongest poets to select one of those paintings to be the inspiration for an original poem.
We then divided the paired poet/painters into two groups, to present their paintings and read the paired poems, and describe their inspirational and creative processes. Ekphrasis #1 read on September 10 and featured paintings and creative writing from: Ray Perigo, Jim Grabski, Mark Blaney, Dixie Ferrer, Susie Gregory Megan Amani Hanson, Tony Brewer, Tim Reed, Eric Rensberger, Shana Ritter , Mary Peckham, LuAnne Holladay
Ekphrasis #2 will be on Sunday, September 24th, at 5:30p.m. and will feature paintings and creative writing from: Paul Kane, Wyatt LeGrand, Don Geyra, Cheryl Duckworth, Jennifer Mujezinovic, Joanne Shank, Nancy Maxwell, James Alexander Thom, Chas Culp, Nathan Schmidt, Julia Karr, Tonia Matthews, Michelle Martin Colman, and Patsy Rahn.
Refreshments will be served.
The Venue's Ekphrasis has become one of our favorite events of the year. Plan to attend, and you will not be disappointed.
Join us for this uniquely Bloomington event. Refreshments will be provided by The Venue in the usual manner, and you can visit the following link for free parking options near The Venue:
http://bloomington.in.gov/parksmart