When:
September 22, 2023 @ 10:00 pm – September 25, 2023 @ 6:00 pm
2023-09-22T22:00:00-04:00
2023-09-25T18:00:00-04:00
Where:
Monroe County Public Library

Big Fall BOOK SALE
The Friends of the Library has a four-day book sale
in Meeting Room 1B/C at the Downtown Library
with thousands of items at bargain prices!
Shop for great books, movies, and music priced 50 cents to $1.50. Choose from thousands of items.
Go to the Meeting Room 1B/1C on the first floor of the Downtown Library.
The Big Fall Book Sale will be open to the public September 22–25
with a special preview sale for Friends members on September 21. 
Thursday, September 21: 4:30–7:30 PM (Friends members only)
Friday, September 22: 10 AM–6 PM (all books $.50–$1.50)
Saturday, September 23: 10 AM–6 PM (all books $.50–$1.50)
Sunday, September 24: 12–6 PM (Receive a Friends tote bag and fill it for $10; fill a box for $15)
Monday, September 25: 9 AM–2 PM (all remaining items are free)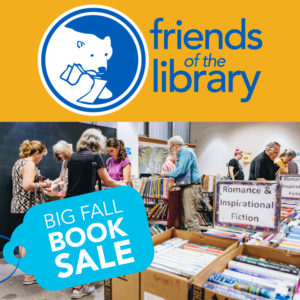 Big Fall Book Sale at the Library!